The Affordable Biblical Alternative to Health Insurance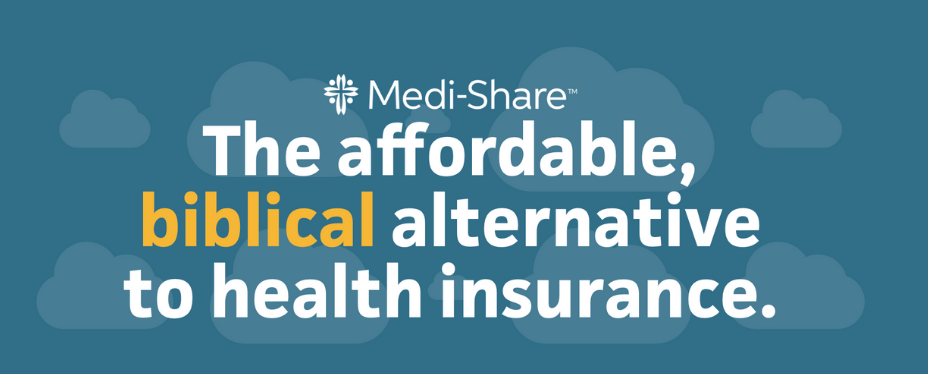 If you're looking for affordable healthcare and short-term insurance isn't for you, there is another option. In 1993, Medi-Share was organized offering a formalized approach to healthcare sharing. Medi-Share households have saved and shared more than $2.6 billion in medical expenses since 1993, partnering with one of the nation's largest provider networks to save members even more through discounting of medical bills. Medi-Share is administered by Christian Care Ministry, a 501(c)(3) organization.
What is healthcare sharing?
Healthcare sharing is when a group of people unites to help pay each other's medical bills. Medi-Share is based on the biblical principles of sharing others' burdens. Members contribute monthly "shares" to assist other Christians who agree to live similar lifestyles.
Medi-Share is not Insurance.
Medi-Share is not insurance and Christian Care Ministry is not an insurance company. The program is a healthcare sharing ministry, facilitated by Christian Care Ministry. Healthcare sharing ministries facilitate member-to-member sharing. Your monthly share goes directly to a family who has a medical need. Similarly, other families are contributing to help you in your time of need.
Why Medi-Share?
Affordable options for every budget.

Once the Annual Household Portion is met, all eligible bills will be published for sharing for the entire household. No need to worry about 80/20 splits.

Programs accommodate any family dynamic — children only, single parents, or large families.

Free doctor consultations are available for non-emergency issues, like colds and rashes, by phone or video 24/7 using your smartphone. Visit a doctor without ever leaving your house or spending a dime… unless you enjoy sitting in waiting rooms!

Members are committed to healthy lifestyles, which helps prevent prices from skyrocketing over time.

A healthcare solution based on biblical principles.

Medi-Share is a community that helps each other. When medical needs arise, believers come alongside you to share your burden and pray for you. When you call us, our employees will do the same.

Sharing only in items that align with your beliefs helps keep costs low. All members commit to no smoking while members.

Health coaching and support.

Adoption: Provisions are made available for members who are adopting.

Medi-Share is Affordable Care Act Compliant.

Members of long-standing healthcare sharing ministries like Medi-Share are free from the tax penalties in place for those who don't purchase insurance.

Medi-Share has been given a "Certificate of Exemption" from the Department of Health and Human Services and IRS. As a member, feel free to ask for a copy for your tax purposes.

Flexibility: Choose a provider from one of the largest PPO networks in the country, or use your own provider.
Available 24/7: Members also have 24/7 $0 cost access to providers via phone or video for non-emergency care.
Dental & Vision: Medi-Share offers discounted dental and vision services.
Hundreds of thousands of members have discovered Medi-Share works for their family's healthcare needs. There is no enrollment period, and you can join at any time!
Learn more by clicking here: http://bit.ly/2Z89kZZ or email Leah Callahan at leah@IGotOzarks.com.
Share the post "The Affordable Biblical Alternative to Health Insurance"